Embedding Subtitles – Making Subtitle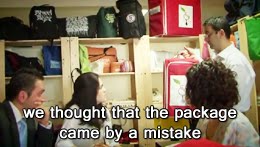 Peremeci Film enables you to localize your external video products with Turkish subtitles. Are you an international brand's Turkey distributor and have a great promotional video produced by your business partner abroad? We can translate it into all languages in the best way for you.
Keep your original content and make your advertisement in any language! We are ready to offer subtitles for all your videos, from shortest to longest, for cinema / TV movies, series, promotional films and commercials!
We are Turkey / Istanbul based, film video production company.
Peremeci Film does not limit you to Turkish subtitles. We provide subtitles embedding for your movies in English, German, French, Russian, Arabic and any language you want. [we call this service Subtitle Embedding]. Moreover, Peremeci Film offers you complete services from the translation stage. Peremeci Film offers a complete agency service for your subtitle embedding needs.
SAMPLE USAGE AREAS:
TO GET MORE DETAILED INFORMATION ABOUT OUR SUBTITLE Embeddıng SERVICE, YOU CAN SEE THE SAMPLES GIVEN FROM SOME WORK AREAS BELOW;
Making subtitles for promotional film.

Completely revising a content of foreign origin in any languages.

Translating your local content into different languages in order to address different nations.

You can get our subtitle service as a voice over service in Turkish [or another foreign language].

To make subtitles for your promotional, advertising and presentation films.

Making multilingual subtitles [For example; Russian subtitles, French subtitles, German subtitles…].

Making subtitle the educational film.